Santa Barbara, CA (PRWEB) November 29, 2010
Today Greenopia released its environmental guide for 2011 car models. The top cars receiving 4 out of a possible 4 leafs included the Tesla Roadster, Nissan Leaf, Honda CR-Z, Toyota Prius, Honda Civic Hybrid, Honda Insight, smart fortwo, and the Chevrolet Volt. The overall greenest car for the second straight year was the Tesla Roadster.
With transportation being responsible for around a third of our carbon footprint, driving a fuel efficient car is an easy way to significantly reduce your environmental impact. Many automakers have made huge strides in making their fleets more fuel efficient and cleaner burning.
The car companies who performed the best overall in the study were Tesla, smart, Mini, Honda, Volkswagen, Kia, and Toyota. Honda was especially notable with 3 of its vehicles receiving the coveted 4-leaf rating from Greenopia, being the only automaker with more than 1 vehicle receiving a 4-leaf score.
?One interesting thing about the vehicle marketplace today is that it is becoming increasingly clear which type of alternative fuel each car company is backing,? said Gay Browne, Founder of Greenopia. ?The majority of car companies seem to be backing some form of an electric vehicle, but there are several car companies who are relying on technologies such as hydrogen fuel cells.?
Greenopia used a comprehensive set of criteria to determine the car ratings. Data was collected from the EPA and from the auto companies themselves pertaining to the fuel economy, emissions, engine type, and curb weight. Weights were set based off the relative environmental impacts of a passenger vehicle life cycle.
For this year?s guide, Greenopia also considered vehicle performance while still taking into account environmental efficiency. A new icon (called ?Eco-Performance?) was awarded to highlight more performance-minded cars that also did well environmentally.
?Although vehicles with more modest engines are almost always going to be the greenest, certain performance automakers do not get enough credit for how efficient their vehicles are,? said Doug Mazeffa, Research Director of Greenopia. ?While sportier cars typically have dismal fuel economies, some are shockingly efficient. There are numerous vehicles made by the likes of Mercedes, BMW, and Porsche that can get around 30 miles to the gallon.?
Greenopia has also green car guides available for the 2009 and 2010 model years.
Greenopia employs its award-winning eco-analysis method to deliver actionable green-assessments to the rapidly growing green consumer market. Green businesses and merchants use Greenopia's targeted marketing methods to effectively reach consumers making greener choices.
About Greenopia: The leading online directory for green, sustainable and socially conscious, daily purchase decisions. Greenopia provides the market's only independent rating and ranking of green services and products. Our rankings and ratings are based on our review of publicly available information and reflect our evaluation of such information. To find out more, please visit http://www.greenopia.com.
# # #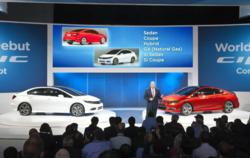 Torrance, CA (Vocus/PRWEB) January 19, 2011
Exciting new small cars from all the major manufacturers dominate this year?s Detroit auto show?one of the premiere automotive events in the world. Due largely to ever-rising fuel prices and consumer desire for more efficient, environmentally-friendly vehicles, the auto industry is responding with a plethora of fun, smaller cars, affordably priced low yet loaded with features?some bordering on luxury. Here are some autoMedia.com favorites.
Toyota revealed a new, roomier Prius V production model and smaller Prius C concept, making good on its promise to expand the successful Prius brand name. The Prius V essentially raises the roof on the familiar Prius body shape, increasing rear headroom and making a 50-percent improvement in cargo space. Meant to be fun to drive as well as economical, the Prius C concept was created to attract singles and eco-concerned couples.
Honda introduced two favorite small cars: The 9th-generation Civic Coupe and Civic Sedan in concept forms, not too different than the actual upcoming production versions. More fluid and modern on the outside, the new 2012 Civic family will sport new interiors and more fuel-efficient engines. The folks at autoMedia.com will be testing the new Civics soon. The 2012 Honda Civic lineup is scheduled to go on sale in the U.S. this spring.
One of the most exciting small cars to immerge out of the domestic market is the new Ford Focus Electric. The Focus Electric is based on the standard Ford Focus and is designed to compete with the Nissan?s LEAF and Chevy?s Volt. In addition to having two more doors, the Focus Electric is said to boast a recharge time of three hours, half that of the LEAF. It will be interesting to see the results of this electrically charged battle when the Focus Electric goes on sale later this year.
GM revealed its replacement for the Aveo, the new 2012 Chevrolet Sonic. While the Sonic moniker might conjure up images of animated hedgehogs, this new entry-level small car is anything but prickly. The Sonic benefits from an available turbocharged 1.4L engine that produces almost 20 more hp than the Ford Fiesta. Its aggressively style exterior is sure to make it a hit with younger drivers looking for an exciting small car.
Sharing the same architecture as the Chevrolet Cruze, the 2012 Buick Verano compact luxury sedan isn?t merely tacking its own badge on a Chevy. Instead, engineers have added distinctive Buick touches to give the compact sedan a luxurious flavor. They?ve also given it a considerably more powerful engine than Chevrolet offers, along with bigger wheels. The Verano is Buick?s third new model in two years, following the recently added Regal, and it?s the first new model in the small cars luxury segment?an area that Buick has not occupied for quite a few years.
Originally known for building small cars, Hyundai debuted the new Veloster and Curb. The 40-mpg 2012 Hyundai Veloster is a front-wheel-drive coupe with an interesting three-door layout?one for the driver and two on the passenger side. More significantly, it is the latest threat from Hyundai to Honda and Toyota as the fast-moving company is rapidly expanding and updating its product line with impressive models, backed by fuel efficiency, fit and finish, generous standard equipment, and styling panache. The Curb concept is the Hyundai alternative to the Kia Soul, positioned under the Tucson. There it would compete with the Nissan Juke and Scion xB with a less-polarizing design.
The company that?s created two generations of brilliant small cars has brought out its latest concept, the Paceman. In contrast with the rather vertical profile of the Countryman, the MINI Paceman concept relies upon a more horizontal theme, which helps to accentuate the car's width. Like the rear bumper on the Cooper S Countryman, the Paceman's bumper contains a diffuser that channels airflow between the dual exhaust outlets. According to MINI, the Paceman?s windows "appear to wrap around the car like a band of glass with the roof 'suspended' on top and painted in a striking, contrasting color."
Boilerplate:
autoMedia.com was launched in September 2000 by a team of automotive editorial, design, and publishing professionals with the goal to be the premier provider of quality automotive content on and for the Web. Today it boasts over 60,000 pages of original articles, including over 2,100 features researched and written by leading automotive experts, covering new and used car buying, new vehicle previews, road test reviews, car care maintenance, professional driving advice, and technology. Automotive enthusiasts and new car shoppers can read about the latest industry news, pricing, rebates and incentives, along with viewing photo galleries and researching details on all makes and models. For ?automotive advice you can trust? and before you buy your next new or used car, visit http://www.autoMedia.com.
# # #
Westerville, OH (PRWEB) January 25, 2011
AVV, the leading lead management solution for auto dealers nationwide and a division of Dominion Dealer Solutions, today announced all-new integration between Web Control, AVV?s Internet lead management solution (ILM), and the Dealer Specialties? inventory management system.
To be launched at NADA 2011, the lead and inventory management integration gives auto dealers real-time access to dealership inventory from a prospect?s details screen within Web Control. Timely customer communication is then made simple by emailing highly engaging vehicle e-brochures. Along with other capabilities provided by this integration, dealers will now be able to view all customers interested in a specific vehicle within the Dealer Specialties? Inventory Management System, as well as the passing of VIN-specific leads with quotes to the inventory management dashboard for display.
AVV General Manager, Ed Braunbeck stated, ?The more a dealership?s inventory and lead management solutions communicate, the more effectively a dealer can put the right people into the right vehicles. Our integration with Dealer Specialties? inventory management engine truly enables our dealers to meet this task and yield greater profits.?
?The integration between AVV?s Web Control and Dealer Specialties? Inventory Management System is a huge win for dealers who rely on these two, industry-leading products,? added Glen Garvin, group general manager for Dominion Dealer Solutions. ?Dealers will save time, reduce frustration, and view real-time inventory information alongside actual leads, driving more intelligent pricing decisions. This partnership is a testament of the future integrations being developed by sister companies within Dominion Dealer Solutions.?
About AVV

AVV, a division of Dominion Dealer Solutions and the lead management arm of Autobase, is a leading provider of independent lead management tools including Web Control, AutoManager and WebResponse. AVV is a certified OEM provider to more than 15 manufacturers including: Acura, Audi, BMW, Ford, General Motors, Honda, Hyundai, Infiniti, Kia, Mazda, Mitsubishi, Nissan, Subaru, Volvo and Volkswagen. AVV's performance reporting has enabled thousands of dealers nationwide to manage the entire car buying process-from online browsing to the showroom sale to post-sale service since 1999. For more information, visit http://www.avv.com.
About Dealer Specialties

Dealer Specialties, a division of Dominion Dealer Solutions, is the nation?s leading provider of inventory management systems complete with data services, analytic tools and merchandising solutions. Providing full-serve and self-serve solutions to dealers? growing and changing business needs, Dealer Specialties provides real-time inventory updates, and inventory marketing on the industry?s largest online distribution network, including GetAuto.com, Cars.com, eBay Motors, Craigslist, Vast.com, YouTube and many others. Dealerships across the country choose Dealer Specialties as their inventory management and marketing solutions provider to ensure the highest quality, accuracy and timeliness of their vehicle inventory from lot to online. For more information, visit http://www.dealerspecialties.com.
About Dominion Dealer Solutions

Dominion Dealer Solutions helps car dealers attract, retain, and service customers for life. Dominion Dealer Solutions products include: lead generation through IFMG; customer relationship management tools through AVV, Autobase, and @utoRevenue; websites through Dealerskins and XIGroup; and specialized data aggregation, management, and reporting services through Dealer Specialties, Cross-Sell, The DataCube, and DataOne Software. These businesses serve more than 60 percent of auto dealers nationwide. Learn more at http://www.DominionDealerSolutions.com. Dominion Dealer Solutions is a division of Dominion Enterprises, a leading marketing services company serving the automotive, enthusiast and commercial vehicle, real estate, apartment rental, and employment industries. Please see http://www.DominionEnterprises.com.

Media Contacts:
Autobase

Steve Lausch

317.428.6159
Dealer Specialties

Jennifer Ryan

513.705.2211
###