Sydney, NSW (Vocus/PRWEB) December 07, 2010
The All New KIA Cerato Hatch opens an exciting new era for the high-profile car maker, a focus on style, quality and safety that cried out for an innovative website promotion to showcase these features. Thus the Get More Value was born.
Built around the ?value for money? proposition at the heart of this exciting new car, http://www.getmorevalue.com.au offers daily click-through deals from a range of partner vendors on goods and services organized by KIA Value Hunters to represent the elements of looks, power, technology and safety found on and in the Cerato Hatch.
With European styling, a muscular 2.4L engine, rugged suspension and a lavish array of extras at no additional cost, the All New KIA Cerato Hatchback is the rolling epitome of a smart choice in stylish, responsible transportation. And getmorevalue.com.au is an equally smart choice in quality online savings.
Value, Value and More Value

At getmorevalue.au.com, there?s a red stripe running along the top of the main window. Each day, a new Value Item is added. Click and save: it?s just that easy. To date, the roster of quality vendors working in partnership with KIA to pass savings on to the consumer has grown to include The Laptop Factory, digiDIRECT, Readyrooms.com and Baby Village. Other prominent participants in this one-of-a-kind program include Logitech, Dell, Adrenalin, Hampers Only, Barbecues Galore and Fitness First.
Last week?s Value Items are emblematic of the deals to be found. On Tuesday, Hampers Only unveiled a deal exclusive to KIA Motors customers: a free bottle of Chandon NV Ros? or McWilliams Hanwood Port with an array of available Christmas gift hampers and baskets.
On Wednesday, visitors to Ticketek received a free $ 50 Ticketek voucher by spending $ 50 or more on a Ticketek transaction. Barbie lovers rejoiced Thursday when Barbecues Galore began giving everyone who purchased the $ 499 Patiomaster HD 4 burner BBQ a bonus three-piece outdoor setting valued at $ 149.
Friday saw the return of ReadyRooms.com and their bonus value deals across Australia and New Zealand, value packages that include free breakfast and more plus new international bonus night offers. And today?s offer comes courtesy of Dell, who for just an additional dollar will give a pair of speakers to those purchasing any Dell monitor over $ 150.
Of course, some of these deals have expiry dates and many are limited to available stock, so click through now to getmorevalue.com.au for the full array of Value Items assembled to trumpet the release of the All New KIA Cerato Hatch.
KIA Cares about the Community

KIA works hard to make value cars, and they labor with equal diligence to be good corporate citizens. To that end, this six-week-long promotion will climax with an exciting charity event: on December 10, eBay will host a 24-hour online charity auction in which 29 additional Value Items will be up for bid. To grab more details, visit getmorevalue.com.au, sign up for the alert and check back daily as the items are revealed.
All proceeds from this online charity auction will be donated directly to the Victor Chang Cardiac Research Institute (VCCRI). The VCCRI is a biomedical research facility committed to excellence in research into heart disease and cardiovascular biology, cardiovascular research training and the facilitation of rapid application of research discoveries to patient care. They?re based in Sydney, and named for the pioneering cardiothoracic surgeon and humanitarian.
The KIA Quality Commitment

The latest in an eye-catching line of quality cars that has kept KIA in the lead for quality in the global automotive industry for more than four decades, the All New KIA Cerato Hatch represents a commitment to value for money found in the style, safety and innovation found in this and all the new cars available now at the nearest KIA showroom.
###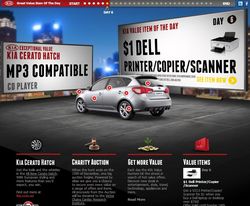 (Vocus) November 9, 2010
A fortnight into the innovative six-week promotion spotlighting the introduction of KIA?s new car – the All New Cerato Hatch, the website getmorevalue.com.au has already offered consumers nine daily value items emphasizing the ?value for money? proposition at the heart of this exciting new car.
KIA Value hunters have been hot on the trail of the best products and services in lifestyle, travel, technology, appliances and more. Each value item has been selected to reflect elements of looks, power, technology and safety found on and in the Kia Cerato Hatch.
Each deal is accessible at third-party websites by clicking a convenient ?buy now? button that will whisk consumers directly to the page detailing the day?s offerings. Late to the party? No worries, as each day?s value item will remain live throughout the promotion?or as long as stocks last.
More Bang for the Buck

On November 1, the premiere day of the program, Get More Value offered those who purchased the Acer Travelmate 5740G laptop at The Laptop Factory Outlet, a bonus extra value pack with Trend Micro?s 2011 Antivirus software, a digital USB TV Tuner, USB mouse and carry bag.
On Day 2, consumers forwarded to digiDIRECT.com.au were treated to a 4GB bonus memory card and case with the purchase of any Canon Compact Camera. Day 3 saw Readyrooms.com.au offering four nights at an international destination for the price of three, while Day 4 saw the purchase of any Safe-N-Sound Convertible Car Seat or Convertible Booster Seat from Baby Village earn a free Safe-N-Sound Car Organizer valued at $ 39.95.
On Day 5, Logitech offered a $ 39.95 value K300 keyboard to the first 1000 consumers who spent $ 100 at logitechshop.com.au. Dell stepped up on Day 6 to include a bonus AIO printer/copier into the purchase of $ 700 on any Dell Notebook or Desktop computer for an additional dollar.
Future value items promise the same level of quality and savings.
Paying it Forward

KIA is mindful of value to the community as well as the consumer. Thus, at the conclusion of the promotion, on December 10, eBay will power one grand final online charity auction offering a chance to secure even more value on a broad range of products and services.
All proceeds from this auction will be donated directly to the Victor Chang Cardiac Research Institute (VCCRI). Founded in 1994, the 13 full-time scientists at VCCRI lead the charge in adult stem cell technologies and their potential application to the treatment of cardiovascular disease.
The KIA Difference

Prominent in their range of quality new cars, the KIA Cerato is all about giving value back to the consumer each time they get behind the wheel. With European styling, a powerful 2.4L engine, rugged suspension and a generous number of exciting extras standard, the car blends luxury, durability and economy in equal measure.
Everybody?s after value for money: with get More Value and the All-New KIA Cerato Hatch, that value is available right now, both online and in the exciting new cars found at the nearest KIA showroom.
###
San Jose, CA (PRWEB) July 13, 2006 -?
The USA KIA/DOW Family Foundation (USAKIA), in conjunction with America Remembers KIA, J&S Surplus & Outdoor Store, a division of Eagle Emblems, and the American Legion Riders (ALR), plans a September 2, 2006, second annual Labor Day Weekend memorial event honoring all members of the U.S. armed forces killed in action (KIA) or died of wounds (DOW). The memorial and annual "KIA Thunder Run" is in Moss Landing on Highway 1, 2 minutes north of the Moss Landing Power Plant. Rolling Thunder also plans to participate again this year. J&S Surplus & Outdoor Store owner, Jim Gilbertson, says to find the store, about two minutes north of the power station, "Just look for the flags" outside his store on the intersection of N. Struve Road and Highway 1.
California chapter presidents for both the ALR and Rolling Thunder plan to participate again this year. Both spoke last year, along with keynote speaker, Amalia Gonzalez, mother of Victor Gonzalez, the first in the Moss Landing area to be KIA or DOW in the war in Iraq. This year the Gold Star Mother will be Mrs. Pat Wiscowiche, mother of Marine Lcpl. William "Willie" Wiscowiche, who lives in Victorville and also has ties to the Bay Area.
Willie was 20-years old when he was KIA April 30, 2004, in Iraq?s Al Anbar province. Other surviving family members include his baby daughter, widow Veronica, his father, Joe, three sisters, and two brothers. A sister, uncle, and cousins, Rachel, Sarah, and Mike will also attend, as well as friends and parents of friends who died while serving.
The all-day function will again include food and merchandise vendors, speakers, and a flag raising ceremony starting at 1PM. Organizers had a successful function last year, and this year they expect more participants. USAKIA and its fellow groups invite the public to the patriotic, free, meaningful, and flavorful event at J&S Surplus & Outdoor Store.
The nonprofit will also begin two raffles on July 15 to help raise funds, one ending Labor Day, the other Veterans Day. It also accepts tax-deductible donations, including, vehicles. See its Web site at http://www.usakia.org. The USA KIA/DOW Family Foundation?s mailing address is P.O. Box 720123, San Jose, CA 95172. For vehicle donations, call CARS toll free at 1-877-537-5277, and mention USAKIA.
About the USA KIA/DOW Family Foundation:
The USA KIA/DOW Family Foundation (USAKIA), based in San Jose, California, is an IRS-approved, tax-deductible and tax-exempt nonprofit. KIA families incorporated the 501(c)(3) organization in the fall of 2003 to benefit families of those killed in action and died of wounds while in the U.S. armed forces. Current services include memorials, membership, and it plans a new California Medal of Honor Project (CAMOHP). It also has products honoring U.S. KIA and added a new director who lives in Tennessee at its June 2006 board meeting. America Remembers KIA allows USAKIA the use of its trademarked KIA flag and symbol. See the organization's Web site at http://www.usakia.org for further information. USAKIA opened a pressroom at its Web site in December and two blogs in March 2006.
###