Posts Tagged 'Information'
Santa Barbara, CA (PRWEB) November 29, 2010
Today Greenopia released its environmental guide for 2011 car models. The top cars receiving 4 out of a possible 4 leafs included the Tesla Roadster, Nissan Leaf, Honda CR-Z, Toyota Prius, Honda Civic Hybrid, Honda Insight, smart fortwo, and the Chevrolet Volt. The overall greenest car for the second straight year was the Tesla Roadster.
With transportation being responsible for around a third of our carbon footprint, driving a fuel efficient car is an easy way to significantly reduce your environmental impact. Many automakers have made huge strides in making their fleets more fuel efficient and cleaner burning.
The car companies who performed the best overall in the study were Tesla, smart, Mini, Honda, Volkswagen, Kia, and Toyota. Honda was especially notable with 3 of its vehicles receiving the coveted 4-leaf rating from Greenopia, being the only automaker with more than 1 vehicle receiving a 4-leaf score.
?One interesting thing about the vehicle marketplace today is that it is becoming increasingly clear which type of alternative fuel each car company is backing,? said Gay Browne, Founder of Greenopia. ?The majority of car companies seem to be backing some form of an electric vehicle, but there are several car companies who are relying on technologies such as hydrogen fuel cells.?
Greenopia used a comprehensive set of criteria to determine the car ratings. Data was collected from the EPA and from the auto companies themselves pertaining to the fuel economy, emissions, engine type, and curb weight. Weights were set based off the relative environmental impacts of a passenger vehicle life cycle.
For this year?s guide, Greenopia also considered vehicle performance while still taking into account environmental efficiency. A new icon (called ?Eco-Performance?) was awarded to highlight more performance-minded cars that also did well environmentally.
?Although vehicles with more modest engines are almost always going to be the greenest, certain performance automakers do not get enough credit for how efficient their vehicles are,? said Doug Mazeffa, Research Director of Greenopia. ?While sportier cars typically have dismal fuel economies, some are shockingly efficient. There are numerous vehicles made by the likes of Mercedes, BMW, and Porsche that can get around 30 miles to the gallon.?
Greenopia has also green car guides available for the 2009 and 2010 model years.
Greenopia employs its award-winning eco-analysis method to deliver actionable green-assessments to the rapidly growing green consumer market. Green businesses and merchants use Greenopia's targeted marketing methods to effectively reach consumers making greener choices.
About Greenopia: The leading online directory for green, sustainable and socially conscious, daily purchase decisions. Greenopia provides the market's only independent rating and ranking of green services and products. Our rankings and ratings are based on our review of publicly available information and reflect our evaluation of such information. To find out more, please visit http://www.greenopia.com.
# # #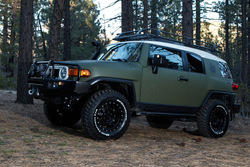 Adrian, MI (PRWEB) December 22, 2010
The National Parks are one of America?s greatest treasures and a new line of adventure vehicles now gives you and your family another reason to support and enjoy a vacation this year to your favorite National Parks.
XPLORE Adventure Series vehicles will be available at your local new car dealers beginning in January 2011 and each one sold delivers a donation to the National Park Foundation for our National Parks. The first XLPLORE Toyota FJ Cruiser will be auctioned in the Spring of 2011 with the proceeds donated to the National Park Foundation.
"Venchurs is pleased to introduce the XPLORE Adventure Series line of specialty vehicles for all major brands of vehicles", states Jeff Wyatt, CEO of Venchurs. "It is a privilege to be able to support our National Parks and the automotive new car and Aftermarket communities, with a program that serves America's need for exciting vehicles.?
XPLORE Adventure Series vehicles are available in four packages featuring increasing levels of equipment and capability. XPLORE Stage 1 Vehicle Packages featuring Katzkin leather interiors are available for Toyota, Jeep, Ford, Ram, Chevrolet, GMC, Nissan, Honda, Subaru, Hyundai and Kia vehicles.
XPLORE Stage 2 Vehicle Packages for select SUVs and trucks include, BFG off-road tires, Method aluminum wheels, Bilstein 5100 Series shocks, Magnaflow stainless steel cat-back exhaust and optional XPLORE/Katzkin leather and suede seats.
XPLORE Stage 3 gets serious; ARB winches, racks, rock-rails, suspension, roof-top tents, Warn winches and IPF lighting are all available as mix-and-match accessories.
XPLORE has partnered with TLC to offer Build-To-Order Stage 4 Toyotas and Jeeps with a multitude of custom personalized options including special paint, electronics and expedition-grade upfits.
Each XPLORE vehicle comes with a free, one-year Annual Pass to all 392 National Parks. New owners receive a one-year membership in XPLORE CLUB and a subscription to XPLORE Lifestyle Journal; a high-quality quarterly featuring amazing places to go, fun things to do and interesting people.
"XPLORE vehicles are designed to deliver adventure for enthusiasts and families? quotes Ron Flint, XPLORE Program Director. ?You can?t have one of these in your driveway and not be inspired to get out into the Great American Outdoors!?
For more information, please visit http://www.xplorevehicles.com
About Venchurs
Venchurs Incorporated has been serving the automotive OEM and Aftermarket industries for more than 30 years, specializing in kit-packaging, order management, and service based logistics. Venchurs combines employee longevity with industry experience to provide high quality products and exceptional customer service. Venchurs is a successful minority owned business and is located in Adrian, Michigan.
About the National Park Foundation
The National Park Foundation is an independent charitable organization chartered by Congress in 1967 to strengthen the connection between the American people and their 391 national parks. As the official national non-profit partner of America?s National Parks, the Foundation raises private funds, makes strategic grants, creates innovative partnerships and increases public awareness about the need and opportunity for park philanthropy.
About TLC
TLC was founded in 1996 to aid in the preservation, restoration and service of Toyota Land Cruisers. TLC further supports the off-road automotive enthusiast community with modifications and installations on modern SUVs and builds purpose-built ICON and CJ3B vehicles.
###
Westerville, OH (PRWEB) January 25, 2011
AVV, the leading lead management solution for auto dealers nationwide and a division of Dominion Dealer Solutions, today announced all-new integration between Web Control, AVV?s Internet lead management solution (ILM), and the Dealer Specialties? inventory management system.
To be launched at NADA 2011, the lead and inventory management integration gives auto dealers real-time access to dealership inventory from a prospect?s details screen within Web Control. Timely customer communication is then made simple by emailing highly engaging vehicle e-brochures. Along with other capabilities provided by this integration, dealers will now be able to view all customers interested in a specific vehicle within the Dealer Specialties? Inventory Management System, as well as the passing of VIN-specific leads with quotes to the inventory management dashboard for display.
AVV General Manager, Ed Braunbeck stated, ?The more a dealership?s inventory and lead management solutions communicate, the more effectively a dealer can put the right people into the right vehicles. Our integration with Dealer Specialties? inventory management engine truly enables our dealers to meet this task and yield greater profits.?
?The integration between AVV?s Web Control and Dealer Specialties? Inventory Management System is a huge win for dealers who rely on these two, industry-leading products,? added Glen Garvin, group general manager for Dominion Dealer Solutions. ?Dealers will save time, reduce frustration, and view real-time inventory information alongside actual leads, driving more intelligent pricing decisions. This partnership is a testament of the future integrations being developed by sister companies within Dominion Dealer Solutions.?
About AVV

AVV, a division of Dominion Dealer Solutions and the lead management arm of Autobase, is a leading provider of independent lead management tools including Web Control, AutoManager and WebResponse. AVV is a certified OEM provider to more than 15 manufacturers including: Acura, Audi, BMW, Ford, General Motors, Honda, Hyundai, Infiniti, Kia, Mazda, Mitsubishi, Nissan, Subaru, Volvo and Volkswagen. AVV's performance reporting has enabled thousands of dealers nationwide to manage the entire car buying process-from online browsing to the showroom sale to post-sale service since 1999. For more information, visit http://www.avv.com.
About Dealer Specialties

Dealer Specialties, a division of Dominion Dealer Solutions, is the nation?s leading provider of inventory management systems complete with data services, analytic tools and merchandising solutions. Providing full-serve and self-serve solutions to dealers? growing and changing business needs, Dealer Specialties provides real-time inventory updates, and inventory marketing on the industry?s largest online distribution network, including GetAuto.com, Cars.com, eBay Motors, Craigslist, Vast.com, YouTube and many others. Dealerships across the country choose Dealer Specialties as their inventory management and marketing solutions provider to ensure the highest quality, accuracy and timeliness of their vehicle inventory from lot to online. For more information, visit http://www.dealerspecialties.com.
About Dominion Dealer Solutions

Dominion Dealer Solutions helps car dealers attract, retain, and service customers for life. Dominion Dealer Solutions products include: lead generation through IFMG; customer relationship management tools through AVV, Autobase, and @utoRevenue; websites through Dealerskins and XIGroup; and specialized data aggregation, management, and reporting services through Dealer Specialties, Cross-Sell, The DataCube, and DataOne Software. These businesses serve more than 60 percent of auto dealers nationwide. Learn more at http://www.DominionDealerSolutions.com. Dominion Dealer Solutions is a division of Dominion Enterprises, a leading marketing services company serving the automotive, enthusiast and commercial vehicle, real estate, apartment rental, and employment industries. Please see http://www.DominionEnterprises.com.

Media Contacts:
Autobase

Steve Lausch

317.428.6159
Dealer Specialties

Jennifer Ryan

513.705.2211
###