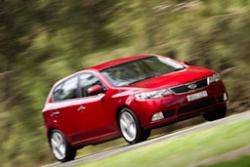 Sydney (Vocus/PRWEB) November 17, 2010
Motoring confidently into the third week of an innovative two-month promotion, KIA trumpets the introduction of their very first hatchback, the All New KIA Cerato Hatch, with a series of daily ?value for money? deals at getmorevalue.com.au.
In keeping with the cutting-edge features, European styling and overall bang for the buck found in this exciting new car, KIA Value Hunters have been searching high and low for the best products and services in lifestyle, travel, technology, appliances and more. All to reflect elements of look, power, technology and safety found on and in the Cerato, and to remind the smart consumer just how smart a KIA purchase is.
The deals are structured to provide cumulative savings on value items throughout the life of the promotion. Simply click on the ?buy now? button found for each day?s deal at getmorevalue.com.au to be directed to that day?s offering. New to the festivities? Hurry and get up to speed, as each day?s value item stays live just as long as stocks last.
The Story So Far

During the first week of November, visitors to Get More Value website found value added extras with purchases of Acer laptop computers, Canon Compact Cameras, hotel rooms, Baby Village car seats, Logitech keyboards and Dell printer/copiers. These values symbolize the state-of-the-art onboard Bluetooth, sporty style and 6x airbag safety features found in the All New KIA Cerato Hatch.
Continuing with the twin themes of savings and style, last week?s deals began with a 4GB Bonus Memory Card and case from digiDIRECT.com.au free with the purchase of any Panasonic Lumix Camera. Wednesday?s value was a $ 20 future Credit Voucher with purchase at logitechshop.com.au.
Thursday saw a free $ 79.90 Storm and Sunshade awarded with every online purchase of a Mountain Buggy Swift at Baby Village, while Friday?s value item was one free hot lap with the purchase of two hot laps at Adrenalin.com.au.
What does this week have in store? Click over right now to getmorevalue.com.au to find items that add value and style to life, courtesy of KIA and the All New KIA Cerato Hatch.
Paying it Forward

KIA is committed to providing value to the community as well as the consumer. Thus, as a grand finale to this promotion, on December 10, eBay will power one ultimate online charity auction offering a chance for consumers to grab even more value on an additional range of products and services.
All proceeds from this auction will be donated directly to the Victor Chang Cardiac Research Institute (VCCRI). Currently staffed by 13 full-time scientists, the VCCRI has spent the last 16 years researching adult stem cell technologies in search of new treatments for cardiovascular disease.
The KIA Difference

The KIA Cerato Hatch is prominent in the veteran car maker?s range of quality vehicles, each designed to remind the consumer of value each time the garage is opened and the ignition key is engaged. This new car blends luxury, durability and economy in a package featuring European styling, a powerful 2.4L engine, rugged suspension and a generous number of exciting extras standard.
With getmorevalue.com.au and the All-New KIA Cerato Hatch, the value for money that everyone wants and deserves in a new car is available immediately at the nearest KIA showroom.
# # #
Kia is the oldest car producer of South Korea and likewise ranks two for South Korea's automotive companies with the Hyundai Kia Automotive Group as its parent company. Kia is a very significant company in Korea, giving the Korean public many "firsts" in transportation – first bicycle and trucks just to name a few. Kia used to focus on manufacturing and producing cars for top automotive companies like Ford before having their own car models.
For the last decades, Kia has grown as one of Asia's fastest growing automotive companies to expand overseas like in America, Europe and the Pacific region. In fact, its massive growth contributed a lot to the national economy of South Korea. Today's current issues and concerns particularly related to the high oil price hikes led to the massive embrace of the public to Kia's compact and energy-conserving cars. Kia's model cars like the Picanto and Rio are not just practical choices but they also very good looking and simply gorgeous.
]]>
Kia is still new in Australia and only around for ten years but its number of years should not be the main indication of Kia's success in Australia. For the last ten years, Kia has made tremendous track record particularly in its local dealership. As of the moment there are 120,000 car units from Kia that has been sold in Australia through their 125 local dealers across the continent.
In general, Kia is taking small steps at a time in letting the Australian public embrace their unique concept of transportation. The company offers many incentives to possible clients with their five year warranty on all vehicles and most of all, more model cars to choose at very competitive prices.
In New South Wales alone, there are at least twenty car dealers that offer Kia vehicles to their clients. This simply shows that local dealers in Australia believe in the efficiency of Kia vehicles and confident that the Australian public will patronize Kia Motors.
One of the local dealers for Kia Motors is Macarthur Motor Group with their Kia showroom and service center located in Narellan New South Wales. In fact, Macarthur Kia is the right place in the neighborhood to look for high quality Kia cars at reasonable and competitive market place. And like other franchises of Macarthur Motors, they also offer pre-owned Kia cars and other types of vehicles.
The service of Macarthur is very specialized and personalized with their well-trained and experienced staff. Their sales representatives are very knowledgeable and can surely match the needs of any client with the right Kia vehicle that will suit their preferences and budget.
Macarthur Kia is starting to gain the public's trust in providing the best Kia available. There is a testimonial in their website about a woman who is greatly satisfied with the Kia car she bought from Macarthur Kia. So if you want to own a fuel efficient and economical car, then visit Macarthur Kia now and they will give you the right KIA car.
Toowongkia cars are becoming the first choice of all who are very passionate about getting new KIA cars. As its fulfills the dream of the person who is desired of buying new kia with the brand new features and he function
new kia are available is wide range and prices . The person who is buying car have to first think on the number of seats they require and the price range for the. After considering all the factors the person may go for the new kia cars who out standing and the appreciable functions. The designers has launched the new kia cars having aeronautical theme in mind, they focused mainly on the the propeller-style alloy/carbon fiber wheels, the jet-themed rear-view cameras. The cars are launched in very exciting new designs which attracts the attention of millions of people.
 
toowongkia avails their customers with new kia cars as well as the old kia cars. Buying the new kia is always the pleasure but going for the old kia car is not the bad option as kia provides their customers with so many features and facilities. If you are looking for a stylish cars which can be stylish and unique among many cars on the road than you can buy the toowongkia cars. These cars have the stylish, trendy looks and at the same time these cars are very reliable too, The front doors and rear-hinged rear doors which opens outward and also at a slight upward angle looking so appealing and attractive, the car has the air of grace and confidence.
]]>
New Kia always designs their cars for the comfort of there customers and that's why kia cars are now becoming famous world wide and the dashing looks of the car have the capability which can attract the people who are enthusiastic about buying the featured and branded cars.
Its fast roofline and shallow glasshouse, the Kia GT's clean and tidy cabin design has created a spacious and airy interior with big accommodation for the driver and three passengers. Thus you can go out with your family anywhere and can enjoy the ride . Thus you can make your journey a precious one. New Kia cars provides the servicing of the cars anywhere in the world. That is if you are having any problem with your car than you can get it serviced from any kia agency. They will assure with full support and also if the car is under guarantee period than they wont charge you any cost. That is the big relief for one who want to buy new kia.
The various great models provided by the kia service are the Kia Rio, Kia Soul, Kia Cerato, Kia Cerato Koup, Kia Sportage, Kia Sorento, Kia Rondo, Kia Carnival, Kia Grand Carnival, Kia K2900, Kia Sedona. The person may go for any cars of them, as they all have the great features and the functions and services provided by the cars is really amazing.