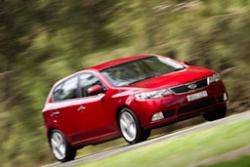 Sydney (Vocus/PRWEB) November 17, 2010
Motoring confidently into the third week of an innovative two-month promotion, KIA trumpets the introduction of their very first hatchback, the All New KIA Cerato Hatch, with a series of daily ?value for money? deals at getmorevalue.com.au.
In keeping with the cutting-edge features, European styling and overall bang for the buck found in this exciting new car, KIA Value Hunters have been searching high and low for the best products and services in lifestyle, travel, technology, appliances and more. All to reflect elements of look, power, technology and safety found on and in the Cerato, and to remind the smart consumer just how smart a KIA purchase is.
The deals are structured to provide cumulative savings on value items throughout the life of the promotion. Simply click on the ?buy now? button found for each day?s deal at getmorevalue.com.au to be directed to that day?s offering. New to the festivities? Hurry and get up to speed, as each day?s value item stays live just as long as stocks last.
The Story So Far

During the first week of November, visitors to Get More Value website found value added extras with purchases of Acer laptop computers, Canon Compact Cameras, hotel rooms, Baby Village car seats, Logitech keyboards and Dell printer/copiers. These values symbolize the state-of-the-art onboard Bluetooth, sporty style and 6x airbag safety features found in the All New KIA Cerato Hatch.
Continuing with the twin themes of savings and style, last week?s deals began with a 4GB Bonus Memory Card and case from digiDIRECT.com.au free with the purchase of any Panasonic Lumix Camera. Wednesday?s value was a $ 20 future Credit Voucher with purchase at logitechshop.com.au.
Thursday saw a free $ 79.90 Storm and Sunshade awarded with every online purchase of a Mountain Buggy Swift at Baby Village, while Friday?s value item was one free hot lap with the purchase of two hot laps at Adrenalin.com.au.
What does this week have in store? Click over right now to getmorevalue.com.au to find items that add value and style to life, courtesy of KIA and the All New KIA Cerato Hatch.
Paying it Forward

KIA is committed to providing value to the community as well as the consumer. Thus, as a grand finale to this promotion, on December 10, eBay will power one ultimate online charity auction offering a chance for consumers to grab even more value on an additional range of products and services.
All proceeds from this auction will be donated directly to the Victor Chang Cardiac Research Institute (VCCRI). Currently staffed by 13 full-time scientists, the VCCRI has spent the last 16 years researching adult stem cell technologies in search of new treatments for cardiovascular disease.
The KIA Difference

The KIA Cerato Hatch is prominent in the veteran car maker?s range of quality vehicles, each designed to remind the consumer of value each time the garage is opened and the ignition key is engaged. This new car blends luxury, durability and economy in a package featuring European styling, a powerful 2.4L engine, rugged suspension and a generous number of exciting extras standard.
With getmorevalue.com.au and the All-New KIA Cerato Hatch, the value for money that everyone wants and deserves in a new car is available immediately at the nearest KIA showroom.
# # #
Westerville, OH (PRWEB) January 25, 2011
AVV, the leading lead management solution for auto dealers nationwide and a division of Dominion Dealer Solutions, today announced all-new integration between Web Control, AVV?s Internet lead management solution (ILM), and the Dealer Specialties? inventory management system.
To be launched at NADA 2011, the lead and inventory management integration gives auto dealers real-time access to dealership inventory from a prospect?s details screen within Web Control. Timely customer communication is then made simple by emailing highly engaging vehicle e-brochures. Along with other capabilities provided by this integration, dealers will now be able to view all customers interested in a specific vehicle within the Dealer Specialties? Inventory Management System, as well as the passing of VIN-specific leads with quotes to the inventory management dashboard for display.
AVV General Manager, Ed Braunbeck stated, ?The more a dealership?s inventory and lead management solutions communicate, the more effectively a dealer can put the right people into the right vehicles. Our integration with Dealer Specialties? inventory management engine truly enables our dealers to meet this task and yield greater profits.?
?The integration between AVV?s Web Control and Dealer Specialties? Inventory Management System is a huge win for dealers who rely on these two, industry-leading products,? added Glen Garvin, group general manager for Dominion Dealer Solutions. ?Dealers will save time, reduce frustration, and view real-time inventory information alongside actual leads, driving more intelligent pricing decisions. This partnership is a testament of the future integrations being developed by sister companies within Dominion Dealer Solutions.?
About AVV

AVV, a division of Dominion Dealer Solutions and the lead management arm of Autobase, is a leading provider of independent lead management tools including Web Control, AutoManager and WebResponse. AVV is a certified OEM provider to more than 15 manufacturers including: Acura, Audi, BMW, Ford, General Motors, Honda, Hyundai, Infiniti, Kia, Mazda, Mitsubishi, Nissan, Subaru, Volvo and Volkswagen. AVV's performance reporting has enabled thousands of dealers nationwide to manage the entire car buying process-from online browsing to the showroom sale to post-sale service since 1999. For more information, visit http://www.avv.com.
About Dealer Specialties

Dealer Specialties, a division of Dominion Dealer Solutions, is the nation?s leading provider of inventory management systems complete with data services, analytic tools and merchandising solutions. Providing full-serve and self-serve solutions to dealers? growing and changing business needs, Dealer Specialties provides real-time inventory updates, and inventory marketing on the industry?s largest online distribution network, including GetAuto.com, Cars.com, eBay Motors, Craigslist, Vast.com, YouTube and many others. Dealerships across the country choose Dealer Specialties as their inventory management and marketing solutions provider to ensure the highest quality, accuracy and timeliness of their vehicle inventory from lot to online. For more information, visit http://www.dealerspecialties.com.
About Dominion Dealer Solutions

Dominion Dealer Solutions helps car dealers attract, retain, and service customers for life. Dominion Dealer Solutions products include: lead generation through IFMG; customer relationship management tools through AVV, Autobase, and @utoRevenue; websites through Dealerskins and XIGroup; and specialized data aggregation, management, and reporting services through Dealer Specialties, Cross-Sell, The DataCube, and DataOne Software. These businesses serve more than 60 percent of auto dealers nationwide. Learn more at http://www.DominionDealerSolutions.com. Dominion Dealer Solutions is a division of Dominion Enterprises, a leading marketing services company serving the automotive, enthusiast and commercial vehicle, real estate, apartment rental, and employment industries. Please see http://www.DominionEnterprises.com.

Media Contacts:
Autobase

Steve Lausch

317.428.6159
Dealer Specialties

Jennifer Ryan

513.705.2211
###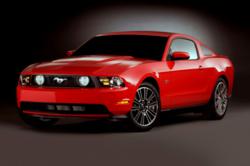 New York, NY (PRWEB) August 23, 2011
Aamcar Rental Service is offering special discounts for customers renting compact and mid-size cars for three to four days over Labor Day Weekend. Rentals are priced at $ 349.95 plus tax with insurance for the three to four day time period.
Aamcar has also added many new cars to its fleet. In addition to offering the Ford Focus, Toyota Corolla, Hyundai Accent, Kia Rio and more, new compact and midsize vehicles include the Nissan Sentra and Nissan Versa.
Not only does Aamcar accept debit cards, but it also accepts cash deposits. Aamcar also believes in not over-renting any of its vehicles in order to follow the highest safety procedures. Interested customers should book a car ahead of time;Aamcar will raise its rates as Labor Day approaches.
A recent satisfied customer had this to say, ?I rented a car from Aamcar once, and I will definitely be back if I need to rent a car again. Aamcar has rates that are far better than any national brand. They have great service. I was able to get an EZ Pass for the car for just a couple of extra dollars, which I highly recommend.There's even a gas station next door, so if customers need to fill up the gas tank before they return the rental, it's not a problem.?
Aamcar believes in strong customer service; one of it's goals is answering potential renters? phone calls by the second ring. Aamcar also provides drivers for its cars, and rental cars are available for pick-up or drop-off at hotels and airports such as LaGuardia, JFK and Newark for all renters. Aamcar has two locations; both are accessible from the red line on the New York City subway.
For more information about Aamcar visit http://aamcar.com/, "Like" Aamcar on Facebook, or follow @aamcar on Twitter.
About Aamcar:
For over 25 years, Aamcar has identified with the needs of the average New Yorker. Aamcar?s owner realized that buying new cars is a better business model because newer vehicles are more attractive to a potential renter and is a better investment. Aamcar gradually added Minivans and SUVs to its fleet, including five passenger sports utility vehicles and sports cars like the Ford Mustang to meet the demands of renters who come from Europe and all over the world to visit NYC. Aamcar?s staff provides excellent customer service and Aamcar does not overbook its vehicles. Aamcar also provides prices that are lower than the other NYC rental companies.
Contact:

Bidisha Chatterjee

Public Relations Department

Aamcar Car Rental

888.287.7066

http://www.aamcar.com
###